---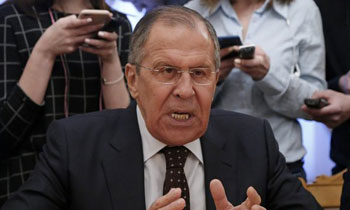 Russia has expelled 60 US diplomats and closed the country's St Petersburg consulate in a tit-for-tat response to US action over a spy poisoning case in the UK.
The moves were announced by the Russian Foreign Minister Sergei Lavrov.
It comes amid a row over the nerve agent attack on a former Russian spy and his daughter in southern England.
Sergei Skripal and his daughter Yulia were found unconscious on a bench in the city of Salisbury on 4 March.
The UK government has blamed Russia for the attack.
More than 20 countries have expelled Russian envoys in solidarity with the UK. Among them is the US, which earlier this week ordered 60 diplomats to leave and closed the Russian consulate general in Seattle.
In response Russia declared 58 US diplomats in Moscow and two in the city of Yekaterinburg to be "persona non grata", the Interfax news agency reported. Mr Lavrov said other countries that expelled Russians could expect Moscow to respond in kind.
Mr Lavrov said the US ambassador had been informed of the "retaliatory measures", including "the expulsion of the equivalent number of diplomats and our decision to withdraw permission for the functioning of the US consulate general in Saint Petersburg".
Later, a US state department spokeswoman said Russia's actions showed it was not interested in good relations with other countries and the US reserved the right to take further action.
"Russia has decided to further isolate itself. We're reviewing options," Heather Nauert told reporters.
Russia has vehemently denied any role in the Salisbury attack. Mr Skripal remains in a critical but stable condition. His daughter's condition is said to be improving - separate sources told BBC that Ms Skripal was conscious and talking. (Radionz)