---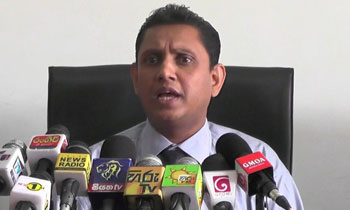 A majority of anti-SAITM forces have agreed to a proposal by the GMOA which is in the process of preparing a common document to resolve this longstanding matter.
The GMOA is said to have held several rounds of discussions during the past two weeks with all the anti-AITM groups and had received positive feedback for its proposals.
Secretary Haitha Aluthge told a press conference today that apart from anti-SAITM groups, a majority of SAITM graduates and their parents had also joined the GMOA to work out a positive solution to this matter.
He said with the recent electoral defeat of pro-SAITM politicos, it is time to take another look on the SAITM issue.
With the new turn of events, the GMOA is hoping to talk to the Government to obtain a positive response to the SAITM controversy within a month.
Dr. Aluthge said according to the GMOA proposal there would be no SAITM M.B.B.S. degrees and SAITM students can only be awarded a degree by the Nizhny Novgorod State Medical Academy of Russia or the General Sir John Kotelawala Defence University
"We hope the power-hungry had learnt a lesson at the LG polls. GMOA does not intend setting up or toppling governments and it is now the Government's duty to implement the proposals. This matter should not drag any further," he added. (Thilanka Kanakarathna)
Video by Buddhi