---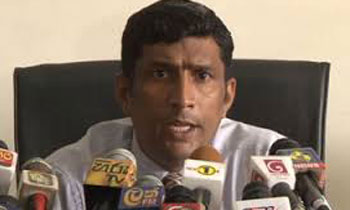 The Government Medical Officers' Association (GMOA) today urged President Maithripala Sirisena to appoint someone who has a better understanding of the responsibilities of a Health Minister to the post, without further risking the health-care services of the country.
GMOA Secretary Dr. Naveen De Soyza told a news conference that the President should either advice Health Minister Rajitha Senaratne to solve the issues within the health sector with the assistant of the related parties, or else he should appoint a new health minister. "We have to reiterate the fact that the behavior of Minister Senaratne has put the health sector as well as patients lives at risk. We hope that the President would intervene to solve this matter in a positive way," he said.
GMOA Assistant Secretary Dr. Haritha Aluthge alleged that Minister Senaratne was more concerned about what was taking place with regards to the South Asian Institute of Technology and Medicine (SAITM) in Malabe than issues concerning his ministry.
"The country is facing a huge issue with a rise in the number of dengue cases being reported from several areas including the Colombo suburbs, Trincomalee, Jaffna and Hambantota. About 35 fatalities from dengue were reported in the Western Province during the year," he said. Despite this, he claimed Minister Senaratne was still busy fussing about what was happening to the SAITM rather than concentrating on stopping the spread of dengue in the country.
He said that the fact that Minister Senaratne was biased towards the SAITM had been proved despite it being a private institute and added that the minister had continuously gone against the recommendations of the Sri Lanka Medical Council (SLMC). "The Health Ministry should reveal the exact facts about the death toll due to dengue that have taken place this year to the people," he said. (Kalathma Jayawardhane)
Video by Isuru