---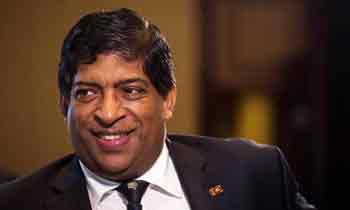 A counsel appearing for former Finance Minister Ravi Karunanayake yesterday informed the PCoI that the minister would not be able to appear at the PCoI today to summoned to do so.
The PCoI had earlier summoned the minister to testify at the PCoI.
Counsel Sandun Gamage appearing for the minister said according to his limited instructions, the minister would not appear before the PCoI today and that the minster had said he would inform the PCoI of the date he would be able to attend the inquiry.
The submission was made at the end of yesterday's PCoI proceedings by Minister Karunanayake's counsel.
Subsequent to the submission, there was a heated argument between Additional Solicitor General, Dappula de Livera and the minister's counsel.
The ASG was of the view that the counsel should have informed the PCoI about the matter at the beginning of the proceedings and the reason for the failure to appear before the PCoI clearly mentioned.
The counsel said he was instructed by the minister about a Cabinet meeting. Then the Commission questioned the counsel whether Cabinet meetings were normally held in the evening.
However, the ASG was of the view that if the reason was to attend a Cabinet meeting then the reason must be clearly mentioned with the details.
The ASG informed the PCoI that they had not lined up another witness to testify at the PCoI today in place of the former finance minister.
The PCoI also emphasized that it would consider the minister's request and directed the counsel to inform the earliest date on which his client would attend the inquiry.
The Commission made these directions considering the time constraints. (Shehan Chamika Silva)