---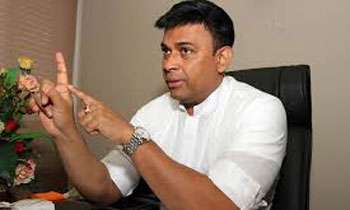 State Minister Ranjan Ramanayake today found fault with UNPers who attended the wedding of former President's son Rohitha Rajapaksa last week.
"I feel that those who attended the wedding have let down the ordinary UNPers. Ordinary UNPers kept vigil at Temple Trees during the political crisis right from October 26 last year. However associating with some of those who created the crisis is wrong and is an act which let down the ordinary party members," Mr. Ramanayake told journalists after attending courts last morning.
However Mr. Ramanayake said he would not find fault with Prime Minister Ranil Wickremesinghe attending the wedding as he is the Prime Minister for the whole country. Also Mr Ramanayake said it was alright for the Speaker to attend as he is the head of Parliament who looks into the affairs of all 225 MPs. However he said he would not approve the other MPs from the UNP attending the wedding.
"When UNP MPs including those who held ministerial portfolios like Law and Order attends a function of those whom they accused of corruption, the public might feel that both parties were trying to get into a deal with each other," he said.
Mr. Ramanayake commended the decision of UNP Deputy Leader Sajith Premadasa not to attend the wedding. "I knew from Mr Premadasa that he was invited. However he questioned whether he should attend the wedding of those who had harassed his supporters in Hambantota," Mr. Ramanayake said. (Yohan Perera)