---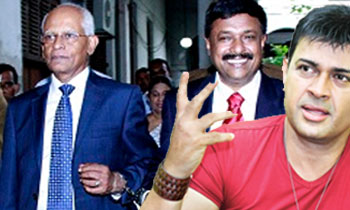 Deputy Minister Ranjan Ramanayake and six other civil society activists today requested the Health Ministry to transfer Acting Chief Medical Officer of Welikada Prison Nirmalie Thenuwara after she transferred former Secretary to the President, Lalith Weeratunga and former Director General of the Telecommunication Regulatory Commission, Anusha Palpita to the Prison hospital.
In a letter to the Secretary of the Ministry, they said the actions of the Acting CMO regarding the transfer of Weerathunga and Palpita soon after the entered prisons to the prison hospital was against procedure and highly problematic.
Deputy Minister Ranjan Ramanayake, Executive Director of CHR, Rajith Keerthi Tennakoon , Human rights lawyer and former IUSF convener Udul Premaratne , former Secretary of Nursing Officers' Association of the Colombo Remand Prison, Mahinda Kodagoda, Secretary of the Committee for Protecting Rights of Prisoners, Attorney at Law, Senaka Perera, Attorney at Law Namal Rajapakshe and journalist Kasun Pussawela are signatories of the letter.
They further state that when an individual, sentenced to rigorous imprisonment, arrives at the prison he or she is given a prisoner ID. Then the prisoner is sent to the medical center of the prison after his or her photograph is taken. However Thenuwara has met the two men before they were even issued a prisoner ID and transferred them to prison hospital.
"Such an incident has not taken place in Sri Lankan history. Because of the significant criticism leveled at this move the two men were not admitted to Prison Hospital but Thenuwara remained in prison hospital till 9 PM. However she reported for duty the following day before working hours and transferred prisoners V 18069 and V 18068 to the prison hospital. This is a gross violation of established procedure," the letter read.
After the Minister of Prison Reforms issued a directive stating that at least three doctors need to certify the health of a person before they are transferred to the prison hospital, Dr. Thenuwara has teamed up with three other Drs. Tirani, Sujeewa and Waruna Jayathilake to manipulate this directive.
"Dr. Thenuwara has received transfer orders to the Colombo National Hospital this year however this order has not been implemented due to the influence of a trade union and the mediation of an official, who is connected to South Asian Institute of Technology and Medicine (SAITM). Given her behaviour and her lack of qualifications to hold such a position, we ask you to transfer Dr. Thenuwara from the Prison Hospital," the statement read.