---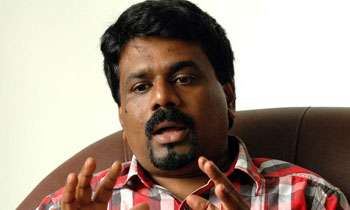 JVP leader Anura Kumara Dissanayake has said that UNP leader Ranil Wickremesinghe was caught in his own trap of allowing the Rajapaksa faction to flourish.
He told the "Intellectuals for Democracy" forum held at the Sri Lanka Foundation Institute that the national government was the result of the power struggle of President Maithripala Sirisena and the then Prime Minister Wickremesinghe.
"The sole motive of the two leaders was to secure their hold on power and this helped the Rajapaksa faction to flourish," Mr. Dissanayake said.
He said Mr. Wickremesinghe thought his political victory would be sustained by fostering divisions within the Sri Lanka Freedom Party (SLFP) and this provided an opportunity for the Rajapaksa faction to strengthen itself.
"Mr. Wickremesinghe allowed the Rajapaksa faction to thrive so as to achieve his political objectives and became a prey of the political agenda he launched," Mr. Dissanayake said.
He said President Sirisena's political agenda was to secure his faction in the government with the intention of becoming the President again in 2020 and ended up becoming a prisoner of his own agenda. (Ajith Siriwardana)