---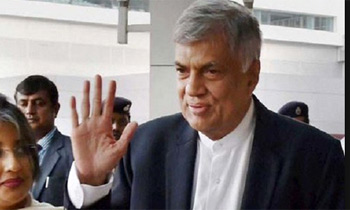 Prime Minister Ranil Wickremesinghe arrived in China yesterday to attend China's high- profile Belt and Road summit beginning today, Indian media reported.
Wickremesinghe left for the Chinese capital immediately after seeing off India's Prime Minister Narendra Modi at the end of his two-day visit to Sri Lanka.
Wickremesinghe will hold talks with Chinese President Xi Jinping and Prime Minister Li Xiang on a host of bilateral issues, his office has said.
Analysts here say Wickremesinghe's Beijing visit has gained significance as India has chosen to stay away from the summit, citing sovereignty concerns related to the China- Pakistan Economic Corridor (CPEC).
The Belt and Road Forum is being organised by China to showcase its multi-billion dollar Silk Road initiative of which the USD 50 billion CPEC connecting China's Xinjiang with Balochistan through Pakistan-occupied Kashmir (PoK) is a part.
India has expressed concerns over China's growing presence and influence in Sri Lanka.
It was reported during Modi's visit that Sri Lanka had denied permission for a Chinese submarine to visit Colombo port this week.
A similar submarine in 2014 had raised protests from New Delhi against the then Mahinda Rajapaksa government in Colombo.
It has been argued that Rajapaksa's massive infrastructure projects presented the Chinese with a foothold in the island nation.
Sri Lanka borrowed mostly commercial loans to fund the infrastructure projects such as building a sea and airport in the Rajapaksa heartland of Hambantota in the deep south of the country.
Wickremesinghe, who is primarily the Economic Affairs Minister in the unity government of President Maithripala Sirisena, has taken the lead in turning the Chinese funded projects into Chinese equity due to Sri Lanka's inability to meet high Chinese debts.
His proposals have faced strong resistance from the Opposition which is being led by Rajapaksa who dubs Wickremesinghe's plans as a sell out of state assets to China(PTI)