---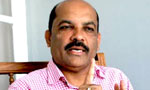 There was no point in remaining as a State Minister if a situation was not created for such Ministers to play an active role in the New Year, one of the State Ministers Palitha Range Bandara said over the week end.
"There is no point of State Ministers if no program is launched to assign them work, during this year," Bandara told journalists who had met him at his office recently.
However, he was confident that President Maithripala Sirisena and Prime Minister Ranil Wickremesinghe would draw up some plan to assign work for the State Ministers although they had failed to do it so far.
Range Bandara said steps had been taken to appoint Secretaries for the State Ministries but it would not do any good if they are not assigned any work.
"Some of the State Ministers are talented and can work creatively if they are given powers to work," he said.
State Minister Range Bandara suggested that subjects should be allocated for the State Ministers through a Gazette notification.
"I will have to decide on a course of action if the State Ministers are neglected continuously," he added.
State Minister Range Bandara made a similar complaint during his speech at the budget debate as well.(Yohan Perera)