---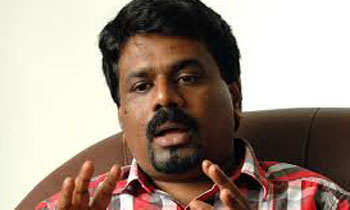 Chief Opposition Whip Anura Kumara Dissanayake yesterday claimed that Health Minister Rajitha Senaratne had been granted Rs.10 million from the President's Fund for the operation he underwent in Singapore while the common man needed to go through a long procedure and needed documentary proof to obtain even Rs.175,000 from the fund.
He drew the attention of parliament to the fact that private pharmacies and laboratories were mushrooming near government hospitals even though the health minister was claiming that medicines were being provided at government hospitals free of charge. "If these services are being provided free of charge to the public at government hospitals, why are private pharmacies and laboratories mushrooming near government hospitals? If the local health service is so good why did the health minister travel to Singapore for treatment? He should have had his operation done at the National Hospital isn't it?" he asked.
Moving an adjournment motion on the need to provide relief to people affected by the drought, Mr. Dissanayake said people in drought hit areas should be provided with a health service allowance as they were facing great difficulty in finding money for their health services.
"These people have lost their sources of income due to the prevailing drought. Most of these people are suffering from kidney diseases and need money to get medicine," he said.
MP Dissanayake also blamed Minister Senaratne for leasing out the Modara Fisheries Harbour for an amount less than the official estimate given by the State while also claiming that he was avoiding investigations being carried out against him by the Bribery Commission.
"The Bribery Commission has summoned him on two occasions to appear before it to inquire into the harbour tender but the minister had not gone there. Instead he influenced the President to remove the Director General of the Bribery Commission," Mr. Dissanayake alleged. (Ajith Siriwardana and Yohan Perera)