---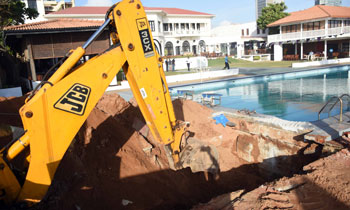 The Colombo Swimming Club (CSC) Officials today said that they were taken by surprise when the Road Development Authority (RDA) officials entered their premises with a Court Order and started demolishing the buildings and walls behind the CSC swimming pool, to make way for the Colombo Extension of the Marine Drive without prior notice.
President of the CSC Tony De Livera told the Daily Mirror the RDA officials arrived at the scene with armed Police, shocking club members and started demolishing surrounding the pool area without getting any permission from the CSC authorities.
"Without noticing the trustees of the club, the RDA, along with the Police, came to the club and said that they were going to take over the premises of the club on a Court Order," he said.
"I can't understand the urgency to destroy a property that has been here since 1936," he said.
"There were people in the pool, especially children and women. When the authorities suddenly showed up they rushed away as they got scared of the armed Police," he said.
Mr. De Livera also said the baby pool and the play zone were completely destroyed leaving it open to stagnant water - an ideal place for dengue mosquitoes to breed.
"No notice was given, they have timed it perfectly. Crashing in on a Friday afternoon they knew we would be unable to go to Court to get an injunction," he said.
Meanwhile, the members of the club questioned the motive behind the project to start from the CSC leaving out the premises of the American Embassy and other commercial sites.
However, RDA sources said that the Court Order to take over the land was issued on July 7 and it included most of the pool area as well.
Club members expressed concern over the way it was handled and said that they feared the CSC's pride and the existence would be threatened by RDA's move.
The CSC established in 1936 is now seventy five years old. (Thilanka Kanakarathna)
Video by - Susantha