---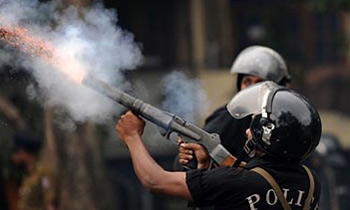 The Police fired tear gas and used water cannons to disperse a group of medical students and parents who were protesting against the South Asian Institute of Technology and Medicine (SAITM) at the Lotus Roundabout in Colombo today.
Medical Faculty Students' Action Committee Convener Ryan Jayalath said some 1000 students and parents had taken a part in this protest march which was launched from Colombo Fort to the presidential secretariat.
"During the protest march, police blocked the road near the Lotus Roundabout and requested 10 of our members to come for a discussion with the presidential secretary," he said and added that they had rejected the request saying they needed to discuss this matter with President Maithripala Sirisena or Prime Minister Wickremesinghe.
"They fired tear gas and used water canons to disperse the protesting students and parents," Mr. Jayalath said. (Kalathma Jayawardhane)
Video by Indika Sri Aravinda