---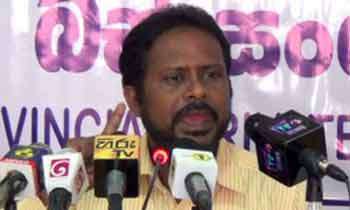 The All Ceylon Private Bus Association (ACPBA) would go for an indefinite countrywide strike from midnight today if the Government did not agree on the minimum increment of Rs.15 and 15 per cent increment, ACPBA Secretary Anjana Priyanjith said.
Speaking at a media briefing at Narahenpita, he said they would not stop the strike until the Government re-considered increasing the minimum fare which was at Rs.10 to Rs.15.
"The owners of buses that ply short distance get a gross loss of Rs.700 daily. The minimum bus fare increment is directly affecting them. Without increasing the minimum bus fare the strike cannot be stopped. The recent diesel fuel increment of Rs.14 per litre had affected them the most," he said.
"The most powerful section of this bus strike will be held by short distance bus owners. Not giving the minimum bus fare demanded or not giving the increment more than 10 percent will not help to call the strike off.
"A survey we did found that passengers are willing to pay an increased bus fare. However, they in turn want us to ensure that buses run on schedule. The objections are coming from the Transport Ministers," Mr Priyanjith said.
"The transport Minister and Deputy Minister called us for discussions which are not worth if the final decision should be taken by President Maithripala Sirisena.
"If the President called for discussions we will definitely go but not with useless Ministers," he said.
The Inter-Provincial Private Bus Association (IPPBA) President Sarath Vijitha Kumara said a certain bus association was trying to betray the bus strike by accepting the 10 percent bus fare hike given by the transport Deputy Minister Asoka Abeysinghe.
"The said bus association claims the strikers' demand of 20 percent hike was false.
Mr. Kumara said they requested a bus fare hike according to their cost. According to the National Policy there should be more than 20 percent annual bus fare increment.
Meanwhile, the All Ceylon Private Omnibus Owners Federation (ACPOOF) Stanly Fernando said the scheduled strike would be avoidable and only the President could interfere in the situation as he had previously done.
He also said the Government should be held responsible for the inconvenience caused to passengers. (Chaturanga Samarawickrama)
Video by RM