---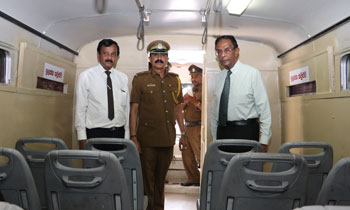 In the wake of the recent attack on a prison bus in Kalutara, officials of the Kegalle prisons have transformed an ordinary prison bus into a bullet-proof vehicle at a cost Rs. 0.7 million in less than ten days under the instructions of Prisons Reforms Minister D.M. Swaminathan.
It was reported that after the Kalutara shooting that killed two prison officers and five prisoners, Minister Swaminathan had provided funds to prison officials to build a secured vehicle to transport prisoners.
Kegalle prisons ASP Sampayun said the upgrading was done in collaboration with the Army Engineering Corps and the Kegalle Police HQI had assisted in verifying the quality of the invention.
"This vehicle which cannot be damaged with any weapon is already assigned on prison duties," he said adding that the project was totally funded by the Ministry of Prison Reforms.
The Minster Swaminathan was also present at the Kegalla Prisons premises to observe the new bus and has advised other prisons in the country to make at least one such bus to ensure the safety of prisoners and the prison officers. (Thilanka Kanakarathna)
Video by RM