---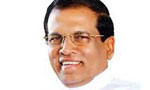 President Maithripala Sirisena said today during a special discussion that priority should be given for the Perahera culture which come from ancient times and pointed out the importance of finding out solutions for the issue of using tamed elephants for the Perahera under long and short term plans.
The discussion was held with the participation of Sustainable Development and Wildlife Minister Gamini Jayawickrama Perera, Ministry Secretary S.P.B. Meegasmulla and the Diyawadana Nilame of the Temple of the Sacred Tooth Relic to discuss about protecting the Buddhists temple procession culture in view of the current controversy regarding the tamed elephants.
As a short term plan the attention had been drawn to ascertain the possibility of using the tamed elephants in the custody of the Wildlife Department by court orders for the Perahera as well as many long term plans were discussed in detail at the meeting.
In addition to this, attention had been drawn to use the tamed elephants using for other industrial purposes for the Perahera.