---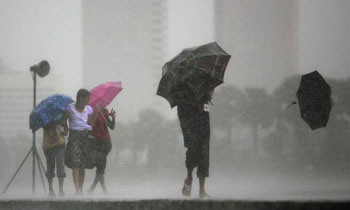 The prevailing rains were likely to increase today and continue for few more days because of the lower level atmospheric disturbance in the Bay of Bengal, the Department of Meteorology said yesterday.
It said showers or thundershowers would occur at times in the Western, Southern, Sabaragamuwa, Central and North-Western Provinces.
"Heavy rains of about 100 to150 mm are expected particularly in the Western, Sabaragamuwa and Central provinces and in Galle and Matara districts. Showers or thunder showers may occur in the Jaffna and Mannar districts during the morning and fairly heavy rain of about 75-100 mm is also expected at some places," the Met Department said.
It said that showers or thundershowers would occur elsewhere particularly after 2.00 pm and fairly heavy rains of about 75 to 100 mm were expected at some places, particularly in the Uva Province and in Ampara and Batticaloa districts.
The maximum rainfall of 165.0 mm was reported from Illubuluwa Estate in Ratnapura yesterday.
"There could be a slight increase in the prevailing showery conditions today when compared with yesterday. The showery conditions are likely to continue till next Tuesday if a lower level atmospheric disturbance develops in the Bay of Bengal," the Duty Meteorologist said.
He said the drought-hit areas in Eastern province had received slight showers last week.
Meanwhile, the Disaster Management Centre (DMC) said the prevailing flood situation was likely to be reduced to a certain extent by today.
DMC Assistant Director Pradeep Kodippili told Daily Mirror that flood waters in the districts of Ratnapura, Kegalle, Kalutara and Galle have receded by a considerable level as of yesterday. (Kalathma Jayawardhane)