---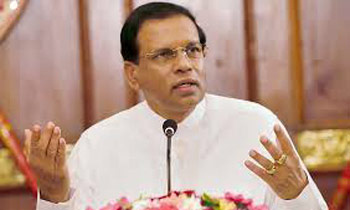 President Maithripala Sirisena has told parents of missing persons in Jaffna that he would discuss this issue at the National Security Council meeting scheduled to be held yesterday and take a decision after reviewing the cases individual basis.
A list of missing persons would be obtained from the armed forces and published shortly.
President Sirisena visited Jaffna on Monday and discussed the progress of development programmes in the North with all stakeholders.
A committee comprising representatives from the Presidential Secretariat, Central Environment Authority, Forest Conservation Department and Wild Life Department will be appointed to monitor and facilitate gravel and sand mining for house construction in the North on the instructions of the President.
The committee will issue instructions and guidelines on how sand and gravel could be obtained from suitable places without damaging the environment and the law.
"There are instances where the provincial councils do not use up the budgetary allocations and a considerable amount of funds are sent back to the Treasury at the end of the year. This must not happen. All provincial councils must be determined to make us of the annual budgetary allocations for the development programmes," the President said.
He said officials and politicians must ensure that there would be no shortcomings in providing essential services like education, health, infrastructure and drinking water to the people in the North.
Governor Reginald Cooray, Chief Minister C.V. Wigneswaran, Ministers Rajitha Senaratne, Duminda Dissanayaka and D.M. Swaminathan were present. (Sandun A Jayasekera)