---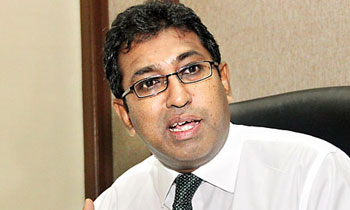 President Maithripala Sirisena never meant taking over any ministry when he recently said that he would take over the responsibility of controlling the economy, Policy Planning and Economic Affairs Deputy Minister Dr. Harsha de Silva said yesterday.
Dr. de Silva told a news briefing last afternoon that the President only meant taking control of the National Economic Council. "The President spoke to me minutes after the statement he made on talking over economic affairs under his purview and told me that he never meant taking over any ministry," Dr. de Silva said.
"If the President had the intention of taking over any ministry he would have done so by now," he said.
Responding to a question as to whether UNPers including him will allow the party to remove MP Ravi Karunanayake from the Assistant Leader's post, Dr. De Silva said no one could stop what the Marapone Commission had recommended. He said the Working Committee of the party would decide the fate of Mr. Karunanayake by the middle of this month.
Referring to an allegation made by Sri Lanka Podu Jana Party that inflation had gone up , the Deputy Minister said it had actually gone down. "The total spending on essential commodities had gone down by Rs 500 in 2017. Also he said number of employment opportunities created last year had been increased by 4,63, 869 in 2017 compared to 2014. "Construction of roads is not stopped but what had come to a standstill is taking commissions out of road development projects" he added in response to allegations that is to bring made by the opposition.
Commenting on the proposed Active Liability Management Bill, Dr De Silva said it will be used exclusively to manage liabilities. Elaborating on the debt situation he said the present government will soon manage the debt trap which the county has been entangled in since the previous regime took over the government. "The Rajapaksa administration borrowed mostly for recurrent expenditure. The last government never maintained an asset management registry show that assets the government possessed during that time. However this government has begun working on such a registry," he said while highlighting that this government is making effort to extend the debt repayment period. He added that the previous government had gone for heavy commercial borrowing unlike the present government. "Previous government borrowed at 8.9 percent from NSB and borrowed from DFCC at 9.9 percent," he added, (Yohan Perera)