---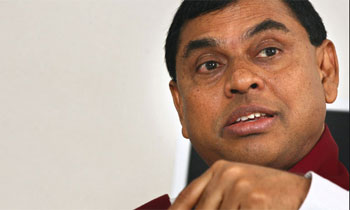 Sri Lanka Podujana Peramuna (SLPP) frontliner Basil Rajapaksa today said there was no moral basis for President Maithripala Sirisena to extend his term for six years as he committed himself to reduce the term in the run up to the elections .
Mr. Rajapaksa told a news conference President Sirisena had claimed during his presidential election campaign that he would reduce the term of presidency to four years and would not seek to stay for six years.
"It is necessary to keep in mind that former President Mahinda Rajapaksa has also only served for four years as the President in his second term of office. In the fourth year former President Rajapaksa went for a presidential election," he said.
He said even President Sirisena could have gone for an election after four years and added that however President Sirisena extended the term to five years after the enactment of the 19th Amendment.
He said now President Sirisena was in an attempt extend his term for six years. He also said irrespective of the legal background, it was not morally appropriate for President Sirisena to do so considering his pre-election promises.
"The legal background of this situation will be decided by the Courts and we have complete faith in it. However it is certain that the legislation will not allow it," he said.
Meanwhile, he said the appointment of someone from the United National Party(UNP) as the Prime Minister was the gravest humiliation inflicted on the Sri Lanka' Freedom Party's (SLFP) founder leader S.W.R.D. Bandaranaike.
"UNP leader Ranil Wickremesinghe could never become the Prime Minister through a popular vote. Yet, he was appointed as the Prime Minister. The UNP is a blood-stained party over the assassination of Mr. Bandaranaike," he alleged.
He also said the UNP deprived SLFP leader Sirimavo Bandaranaike of civic rights and the appointment of someone from that party as the Prime Minister was the most heinous crime perpetrated on Mr. Bandaranaike.(Kelum Bandara and Kalathma Jayawardhane)