---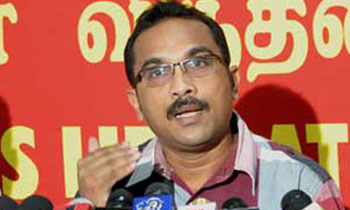 The Mahanayake Theras of three Nikayas took the unanimous decision of discouraging the formulating of a new Constitution or bringing an amendment to the existing one without any knowledge of its contents, Janatha Vimukthi Peramuna (JVP) Parliamentarian Bimal Ratnayake said today.
He said President Maithripala Sirisena and Prime Minister Ranil Wickremesinghe should have educated the Mahanayake Theras on this topic.
Responding to a question raised by a journalist at a recent press briefing, MP Ratnayake said the Mahanayake Theras were influenced by facts and figures presented by racist groups who assume the Cabinet would pass a Constitution harmful to the people of the country.
However, the MP said there was no evidence of a proposal to belittle the position accorded to Buddhism by the present Constitution.
He said the democratic process of the country should not be harmed by any religion, and that the country's governance should not favour a particular religion. (Thilanka Kanakarathna)