---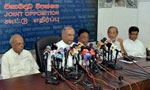 Criticising the Government for what the joint opposition described as the lack of managerial skills which had resulted in the second nationwide power outage within a month, it urged the subject minister to resign if he was incapable of performing his duties efficiently.
MP Wimal Weerawansa said even during the armed conflict, the people did not experience these kinds of prolonged blackouts.
"This is a failed government which has disappointed people," he said at a media conference today.
MP Vasudeva Nanayakkara said the government was neither responsible nor accountable to people.
MP Udaya Gammanpila urged the minister to resign because he had failed to prevent the countrywide power outage which followed the one on February 25.
He said the government could not solve the crisis just by forcing the Ceylon Electricity Board (CEB) Chairman to resign. (Piyumi Fonseka)