---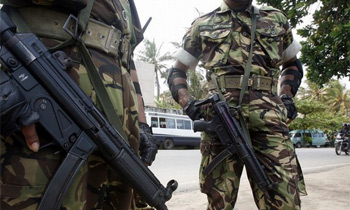 The second wife and son of notorious underworld gangster M.N. Naufer alias Potta Naufer, were among five people arrested by the Special Task Force (STF) today while attempting to smuggle 609 grams of gold to India.
The STF said the suspects were arrested at the airport exit on the Katunayake Expressway after receiving a tip off.
Sources said three suspects, Naufer's 50-year-old wife, another woman and a man were on their way to the airport to board a Mumbai flight when the STF intercepted them.
They had in their possession six pieces of gold weighing 100 grams each hidden in their rectum while Naufer's 21-year-old son and annother accomplice were arrested on charges of aiding and abetting the smugglers.
Investigation had revealed that the gold smuggling operation had been continuing for about an year.
The suspects were handed over to the Seeduwa Police.
Potta Naufer was sentenced to death after being found guilty of killing High Court Judge Sarath Ambepitiya.(Darshana Sanjeewa)