---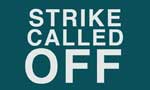 The four-day long strike launched by the Joint Postal Trade Union on Sunday (12) was called off last evening following a meeting held at the Prime Ministers' office, Joint Postal Trade Union Convener Chinthaka Bandara said.
Those present at the meeting were Prime Minister's Secretary, Public Administration Ministry's secretary, Post and Postal Services Minister Abdul Haleem, Postmaster General Rohana Abeyratne, Postal Services Ministry Secretary and Public Service Commission officers.
"The four-day strike action was called off after the government agreed to provide favourable solutions to three of our main demands," he said.
Fourteen demands, including resolving issues related to overtime payments and the procedure in which solutions should be implemented had been discussed at the meeting, Mr. Bandara said. He said a Cabinet paper would be submitted to pay overtime payments similar to how it was paid before.
"They agreed to pay the salary anomalies within two weeks, to follow a uniform method with regards to recruitment as well as resolve issues related to overtime payments," Mr. Bandara said.
He however warned that if the promises were not kept and favourable solutions were not given to these problems, it would precipitate yet another strike action, which would be launched from midnight on July 4. (Chaturanga Pradeep)
Video by Indika Sri Aravinda