---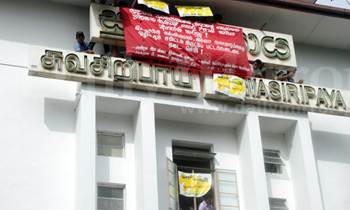 The Police had launched an investigation into the incident in which a group of university students had forcibly entered the Health Ministry premises and damaged public properties on Wednesday, Police Spokesman DIG Priyantha Jayakody said today.
A tense situation prevailed at the Health Ministry building in Maradana, when the members of Inter University Students Federation (IUSF) forcibly entered and besieged the building.
On Wednesday morning the Colombo Chief Magistrate had issued an order preventing the IUSF from causing public disturbance as well as forcibly entering Government institutions.
Addressing a press briefing DIG Jayakody said the university students had violated a court order and damaged public properties during the protest against South Asian Institute of Technology and Medicine (SAITM).
He said the Government Valuation Department and other institution were evaluating the damage.
"We will examine CCTV footages and other evidences and then will submit them to the court. It is a crime to cause damages to public properties under the Public Property Act.
"The Police will not let anyone take law into their hands and we will take stern legal actions against those who were involved," he said.
DIG Jayakody said five Police officers and 62 students had been hospitalised during the incident.
However, no one had been arrested as of today.(Darshana Sanjeewa)