---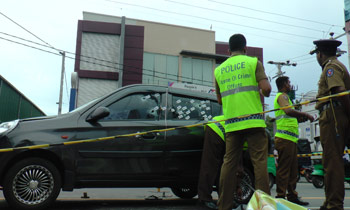 The grisly shooting that took place in Piliyandala on Tuesday night, killing an officer of the Police Narcotics Bureau (PNB), is alleged to be a trap set up by leading underworld figure 'Matara Madush,' the police alleged yesterday.
Police Media Spokesman DIG Priyantha Jayakody told the Daily Mirror that according to information received, the police suspected that the PNB officers were allured into a trap by a false tip off.
It was reported that the PNB sleuths had agreed to purchase a stock of heroin, weighing three kilos and worth more than Rs.4 million, by a supporter of the notorious drug kingpin Matara Madush. Following the lead of an informant, the PNB officers had pursued to conduct the raid in Piliyandala. En route to the location, they had been ambushed outside the People's Bank Piliyandala Branch at around 8.45 p.m. by two unidentified gunmen who had opened fire at them.
The PNB officer, Constable Chaminda Abeywickreme (49446), who was severely wounded by the shooting, succumbed to his injuries on admission to the Kalubowila Teaching Hospital.
Police Inspector M. Neomal Rangajeewa and Constable Chaminda (67055) who sustained injuries were transferred to the Colombo National Hospital in critical condition. They were visited by IGP Pujith Jayasundara yesterday.
However, police said the motorcycle used by the suspects to flee the scene was found abandoned in Maharagama yesterday.
They said several vehicles including the three vehicles that transported the PNB officers were sprayed by bullets, and that six civilians including three children who sustained injuries were admitted to the Kalubowila Teaching Hospital.
However, police said further investigations into the shooting were being carried out by a special police team under the guidance of Western Province Senior DIG Nandana Munasinghe and Mount Lavinia Division SSP Chandana Athukorala.
Also, two other police teams have been deployed by Nugegoda Division SP Prasad Ranasinghe and Colombo Crime Division SSP to arrest the suspects. On the other hand, a PNB team led by DIG Kamal Silva is looking into the incident.
The funeral of the deceased will be held on Saturday (13) at the Marawila Public Cemetery with police honours.
It was learnt that the deceased police officer had been felicitated 112 times during his 15 years of service. Also, the injured Police Inspector, M. Numal Rangajeewa, was identified as a leading officer in the field. (Thilanka Kanakarathna)