---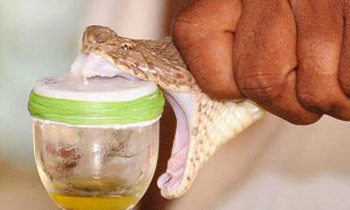 At least 7 species of highly poisonous snakes have been recovered in the country and there are no anti-venom serums found to treat against three of them, Professor of Veterinary Parasitology R. P. V. J. Rajapakse yesterday said.
He said the Peradeniya University has initiated work on finding antiserums for them in Sri Lanka.
Prof. Rajapakse told the Daily Mirror that the cobra (naya), common krait (thel karawala), Sri Lankan krait (mudu karawala), Russell's viper (thith polaga), saw scale viper (weli polanga), hump nose viper (kunakatuwa) and green pit viper (pala polanga) were the 7 highly venomous snakes.
"Among the seven, there are no antiserums to treat against Sri Lankan krait, hump nose viper and green pit viper. We are importing antiserums from India. But, they do not produce these antiserums because those snakes are not found in India. Usually, we don't produce antiserums in Sri Lanka," he said.
He said the Department of Veterinary Pathobiology and the Medical Faculty of Peradeniya University have launched researches to produce those antiserums. He also said they have planned to collect necessary substances from around 400 highly poisonous snakes from the country to produce them.
"At present, we have collected nearly 90 species. Then, we will send those substances to India to make these antiserums since it will cost a lot of money to do it in Sri Lanka. Around one and a half years will be taken to complete this task," he said.
Meanwhile, he said the Department of Wildlife Conservation and Ministry of Science, Technology and Research had approved it and had lent a hand in their researches. (Kalathma Jayawardhane)