---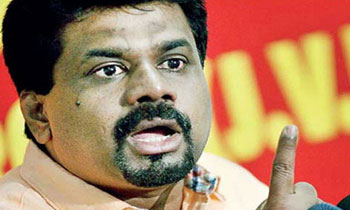 The Janatha Vimukthi Peramuna ( JVP) today said the people had rejected the government as it had put the mandate it received in January 8, 2015 to eradicate corruption and to resolve other issues faced by them.
JVP leader Anura Kumara Dissanayake told a media briefing that the government failed because it was not able to take the nation out of the debt trap and economic turmoil. This he said had helped those who were defeated in 2015 to raise their head.
Mr Dissanayake said the result of the local government election was not the one which the JVP expected but will be happy as it had been able to double it's members in the local bodies. "The corrupted lot which was defeated in 2015 had come back to power, " he said. Therefore, he said there is a greater role for the people to play in the future while JVP will also play a role in it. "The farmers and others will have to seek the JVP support to get their issues resolved and our party will perform its duty accordingly", he said.
JVP General Secretary Tilvin Silva said the people had got the opportunity of getting their expectations fulfilled but one corrupt lot has been brought back to power while sending a similar lot home.
He said JVP has not decided as to whether it would support any party to form administrations in any of the local bodies yet. (Yohan Perera)