---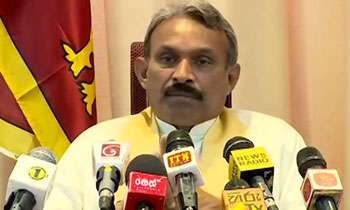 President Maithripala Sirisena prorogued Parliament following the change of government to present a Vote on Account in place of the budget 2019 and to reorganize the new Ministries, President of the Provincial Governors' Collective, Southern Province Governor Hemakumara Nanayakkara said today.
Addressing a news briefing in Colombo, Mr. Nanayakkara said President Sirisena was to appoint a new Cabinet and new Secretaries shortly and such a new budget was not possible.
"The new Cabinet of a single party government could accommodate only a maximum of 30 or less number of Ministers and as such there will be only 30 Ministries. The new government does not have time to present a budget and therefore a Vote on Account will be presented in Parliament for a limited period of time. That is why the Parliament was prorogued," he said.
Asked whether the prorogation was declared to take time to woo members to the UPFA fold and collect enough votes, Mr. Nanayakkara said the UPFA already had more than magic number of 113. (Sandun A Jayasekera)