---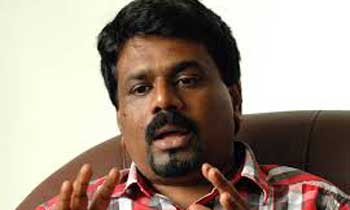 The Janatha Vimukthi Peramuna (JVP) said today it would support new laws to prevent the people's representatives charged with fraud and corruption from contesting elections and would defeat any moves to scrap civic rights of any individual.
Party Leader Anura Kumara Dissanayake said Parliament was where laws were drafted and not where people were punished.
"We recently heard about a move to scrap the civic rights of former President Mahinda Rajapaksa. We will not support the drafting of laws for political games because Parliament is not meant to inflict punishment," he said.
However, Mr. Dissaynayake said they would support laws to prevent politicians charged with fraud and corruption contesting elections as recommended by the PRECIFAC report.
"The PRECIFAC report has recommended that politicians charged with fraud and corruption should not be allowed to contest elections not for seven years as stipulated in the Constitution but during their lifetime. We fully agree with that recommendation," he said. (Ajith Siriwardana and Yohan Perera)