---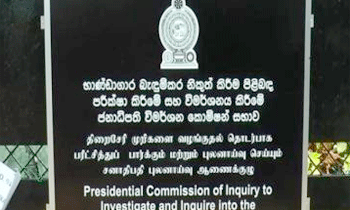 In the wake of revelations made by PTL IT executive and its Chief Dealer that they had deleted More than 100 phone conversations from the PTL voice recording system, President's Counsel Nihal Fernando who had been appearing for Perpetual Treasuries Ltd said yesterday he would quit from appearing for PTL hereafter. He said this after PTL Chief Dealer Nuwan Salgado concluded his testimony before the Commission yesterday.
Mr. Fernando was of the view that it was a matter of safeguarding his professional reputation because he had asked his client, PTL to provide all phone recordings with regard to the transactions.
Yesterday it was revealed that PTL had deleted certain phone recordings and had lied to the PCoI about its phone recording system.
ASG Dappula de Livera said Mr. Fernando took the undertaking earlier that he had provided all material and it was found now that the undertaking was faulty.
ASG Yasantha Kodagoda also observed that if Mr. Fernando had instructed PTL to give all details then in that case he should come to the witness dock and give evidence regarding his instructions.
However, Mr. Fernando PC said he performed his duties in good faith as he had provided all the details requested by the PCoI from the beginning. Mr. Fernando said he was only dealing with the technical matters on behalf of PTL but not the criminal aspects that transpired during proceedings. The Commission was of the view that it had no problem with regard to the professional conduct of Mr. Fernando.(Shehan Chamika Silva)