---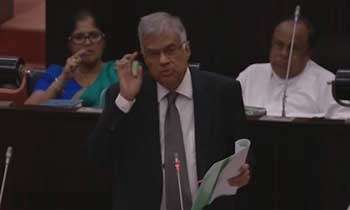 Prime Minister Ranil Wickremesinghe, who is also the Chairman of the Steering Committee of the Constitution Assembly, today presented the report prepared by the Experts Panel of the Steering Committee.
The report is based on the interim report, six sub-committee reports and the representations made by political parties on drafting a new Constitution.
"It is time for the Constitution Assembly to decide on the future course of action with regard to compiling a new constitution because the Steering Committee has completed its work," the Prime Minister said. "The assembly can now decide on the future course of action as the Steering Committee has finished its work."
He said they could select the points which all parties could agree upon and work on them and then prepare a draft after arriving at a consensus.
The Prime Minister ruled out the merger of the North and the East and the division of the country while highlighting Section 9 which ensured the foremost place to Buddhism.
Referring to a matter raised by Opposition Leader Mahinda Rajapaksa that the members of the assembly needed more time to study the reports presented yesterday, the Prime Minister said that could be debated on another date.
He said those who claimed that the country would be divided, the North and East will be merged and the foremost place assigned to Buddhism were going to be disappointed because none of these would be done.(Yohan Perera and Ajith Siriwardana)