---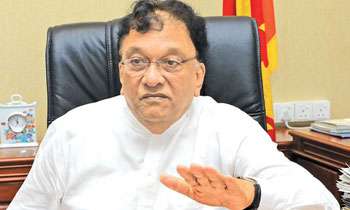 Prime Minister Ranil Wickremesinghe will meet party leaders next week to discuss and come to a final decision on the passing of amendments to the Provincial Councils electoral system in order to hold PC polls under the old system and also the possibility of holding elections before May 31, following President Maithripala Sirisena's request made to cabinet on Tuesday, a senior cabinet Minister said today.
Leader of the House and Public Enterprise, Kandyan Heritage and Kandy Development Minister Lakshman Kiriella told Daily Mirror yesterday that the UNP had no problem of holding elections under the old electoral system and added elections must be held for all 9 Provinces on a single day or simultaneously.
Minister Kiriella also said the five-member committee chaired by the Premier, appointed to review the shortcomings of the delimitation report had already handed over its report to Parliament.
"All party leaders must come to consensus on the amendments and pass them on a one thirds majority in Parliament. However, some parties are not fully agreeable to certain amendments and as such, I don't think we could garner the necessary two thirds to approve it. That's why the Premier would talk to party leaders and try to get their consensus to pass these amendments to pave the way for PC polls as early as possible," Minister Kiriella stressed.
Minister Kiriella noted that the cabinet memo presented by President Sirisena to cabinet was deferred for next week's meeting and expressed hopes that it would be passed next week.
He said he did not see any reason why the PC polls cannot be held before May 31 if the due process followed and cabinet and Parliament passed the amendments and party leaders decide the time frame to hold PC polls and added that the hopes to hold PC polls out of question because without the delimitation is finalized on all provinces, holding polls under the new system or mixed system was impossible.
The Provincial Councils Electoral (amendment) Act was passed in Parliament with two thirds majority last July.(Sandun A. Jayasekera)