---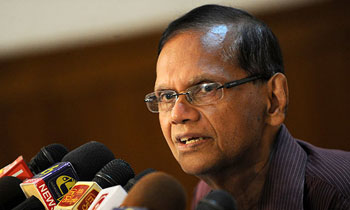 The Sri Lanka Podujana Peramuna (SLPP) today claimed that Prime Minister Ranil Wickremesinghe had made a deal with the Tamil National Alliance (TNA) to get its support to defeat the no-confidence motion against him.
It said TNA MP Selvam Adaikalanathan has revealed that the two factions had agreed to 10 conditions if the TNA was to vote against the no-confidence motion.
SLPP Chairman G.L. Peiris said according to the agreement 650 acres of land occupied by the armed forces in the North was to be released to their owners.
"Another condition of the agreement is to appoint officers of Tamil origin as district secretaries in the North and East. This will lead to grave repercussions in the state sector. The Constitution allows any citizen, regardless of their ethnicity, to settle anywhere in the country and to work anywhere," he told a news briefing.
Prof. Peiris said the TNA's stance during the no-confidence motion debate proved it was another constituent of the government.
"The leadership of the Opposition should be given to someone named by the former president and MP Mahinda Rajapaksa from the joint opposition," he said. (Lahiru Pothmulla)
Video by Sanjeewa