---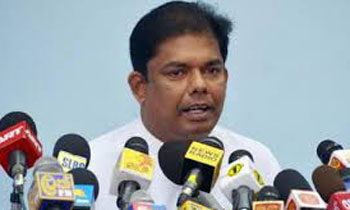 Prime Minister Ranil Wickremessinghe's private visit to the US was unavoidable and planned a couple of months earlier and therefore, he had no option but to undertake it, cabinet spokesman, Lands and Parliamentary Reforms Minister Gayantha Karunatilaka said and added the visit was for a medical checkup.
Minister Karunatilaka said Mr. Wickremesinghe has instructed relevant Ministers and officials to keep in touch with him round the clock to appraise him on the flood situation and called for situation reports every six hours.
"He also gives advice regularly to Ministers and officials from the US on flood relief operations," Minister Karunatilaka added.
Minister Karunatilaka said if Mr. Wickremesinghe did not undertake this visit, he would have to wait for several months to rearrange it.
Commenting on certain media reports on Mr. Wickremesinghe's visit to the US at a time when the country was trying to come to terms with a devastating flood and landslides, Minister Karunatilaka said Premier Wickremesinghe held a several rounds of talks with Ministers and officials and gave clear instructions on how to face the unprecedented natural disaster before he left.
"Before his departure to US, Prime Minister Wickremesinghe met President Maithripala Sirisena. He told ministers and officials not to let circulars, Financial or Administrative regulations hamper flood relief operations. It was in one of these meetings that the Central Bank was directed to release Rs. 2 billion to commercial banks to launch a soft loan scheme for flood victims," Minister Karunatilaka said. (Sandun A Jayasekera)