---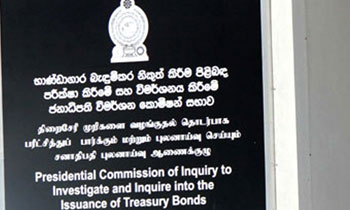 The PCoI today overruled the objections raised by Counsel who appeared for W.M. Mendis Company and asked them to comply with the directive and submit the relevant financial details within the day.
President's Counsel Anuja Premaratne appearing for Perpetual Capital Holding's CEO Arjun Aloysius said yesterday he would also appear on behalf of W.M. Mendis Company's CEO.
Initially, Mr. Premaratne was of the view that they were in the process of asking the banks for the details required by the Commission regarding the company's balance sheets since 2014, details of the bank accounts of the Company and the bank statements since 2014.
He said the PCoI had no mandate to ask for the financial details of W.M. Mendis Company on the basis that it has no reference with the incidental matters inquired by the PCoI.
However, Additional Solicitor General Dappula de Livera said the PCoI has the mandate to call for any particulars with regard to the disposal of profits earned through treasury bonds dealt by PTL and hence the transfer of profits to W.M. Mendis & Company from PTL is within the disposal process and therefore under the PCoI's mandate.
Deputy Solicitor General Milinda Gunathilake said there were some profit transfers from PTL to W.M. Mendis & Co. Ltd., visible in documents provided by PTL CEO Kasun Palisena.
Justice Prasanna Jayawardena was of the view that any of the required details would be available with the company's accounts department and asked the counsel to provide them to the Commission immediately.
PCoI Chairman Justice K.T. Chitrasiri emphasized that in any event W.M. Mendis & Co. Ltd., should submit the required details complying with the previous order within the day. "Otherwise we have to make our own inferences because you have been given enough time to provide them," Justice Chitrasiri said.
The PCoI said it would consider the legal argument raised by PC Premaratne on the commission's mandate and give an order today but in the meantime W.M. Mendis & Co. Ltd., should provide the required details. (Shehan Chamika Silva)