---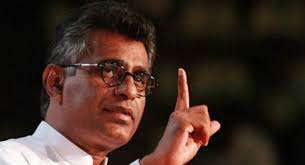 The Provincial Council elections to the nine provinces should be held on the same day, Megapolis and Western Development Minister Patali Champika Ranawaka said yesterday.
He expressed these views addressing civil society activists who contributed in defeating the recently carried out political coup from October 26.
"It is obvious that there have been issues in the electoral system. That's why the PC election got delayed for one year. Hence, all parties should come to a common conclusion as to how they are going to hold the election," the Minister said.
"The terms of some provincial councils have expired resulting in uncertainties prevailing in those provinces," the Minister added.
The Minister said political parties in Parliament should come to an agreement on the electoral system before finalising the election.
"Most of the parties are in protest of the new system after the outcome of the LG polls," the Minister said.
He said party leaders had a right to come to an agreement on the electoral system and expedite the PC election.
Meanwhile, he said they would not whatsoever allow this country to become a federal nation as per the wishes of some individuals.(Sheain Fernandopulle)