---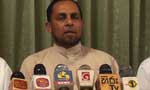 The Government should intervene to protect the lives of Basnayaka Nilames as they faced death threats trying to protect the temporalities of the Devalas, the Basnayake Nilames said today.
President of their association Mahanuwara Sri Kataragama Devala Basnayaka Nilame Gemunu Bandara Walisundara said hundreds of acres of lands, belonging to the Devalas, had been encroached forcibly by politicians, their accomplices and underworld gangs.
"We, as Basnayaka Nilames, maintain the Devalas and conduct Pujas with the income of the temporalities of the Devalas. We do not receive any funds from the Government. Today we have no income to do them, as the properties have been seized illegally. When we go to collect rents, they threaten us with death. How can we protect these Devalas without this rent monies?," Walisundara asked.
He said the Police had not provided any security to them and added that the Police took months to investigate, whenever they lodged a complaint.
"It is the responsibility of the Government to ensure our security. But we have no security. The Government provides security to unwanted people, but pays no attention to us who face death threats," he said.
Mr. Walisundara alleged that certain groups were attempting to discredit the position of the Basnayaka Nilames. (Nadeeka Daya Bandara)