---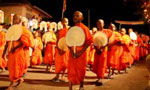 The government will not proceed with the Theravada Kathikawath Bill if the monks oppose it, Prime Minister Ranil Wickremesinghe told a group of monks, who met him at Temple Trees today.
He said the Kathikawath Bill was prepared by the Buddhist Clergy and not by the government and that the matter had to be handled by the monks.
"Decisions on issues pertaining to any religion should be taken by the relevant religious leaders and not by the government," the Prime Minister said.
He also requested the Maha Nayake Theras to introduce some mechanism to ensure the effective administration of Viharas and other Buddhist religious institutions abroad because of the issues which had cropped up from time to time.
The Prime Minister also assured that it was the intention of the Government to make Sri Lanka the centre of Theravada Buddhism and added that it was essential to have an inventory of artifacts and treasures in ancient Temples so as to safeguard them. Further, he said a Sangha Adikaranaya (a special court) to hear cases pertaining to monks could be set up if the Buddhist clergy were interested in doing so.
The Prime Minister said a committee under the Youth Centre would be set up to address the concerns faced by student Bikkhus and assured that the government would provide laptop computers to student monks.
He suggested that and the Buddhist Clergy should have a dialogue on Buddhism with President Maithripala Sirisena and himself. (Yohan Perera)