---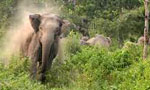 A 60-year-old man was killed by a wild elephant in a chena in Sooriyawewa in Embilipitiya this evening, police said.
They said the elephant had attacked four people while they were clearing a forest area for the chena.
One man was killed and the others had run and climbed on to a tree nearby.
The Sooriyawewa Police and the Hambantota Wildlife officers are conducting investigations.
Video by Roshan Gunasekera