---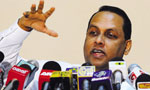 The SLFP has identified those who have betrayed the party, criticized and insulted President Maithripala Sirisena and sabotaged the government and they will not be givean nominations to contest the local government polls, UPFA General Secretary and Minister Mahinda Amaraweera said.
Minister Amaraweera told the Daily Mirror that the UPFA had begun conducting interviews to select candidates for the forthcoming local government polls and it will continue until July 30. Applicants from three districts will be interviewed on one day at the party head office at Darley Road by a panel of three party seniors comprising ministers, state ministers and deputy ministers.
Minister Amaraweera also said the same policy would be adopted in selecting candidates for the future Provincial and Parliamentary elections and added many who were unfaithful and treacherous to the party will be rejected nominations.
"The party head office has received nearly 10,000 applications to contest local government polls and we expect to field educated youths with unblemished records as our candidates. We have decided to refuse nominations who went against the party line and insulted party leader, President Sirisena on numerous occasions. By doing so, we expect to maintain the party discipline and show them that those who betray party and those who abuse and shame the party leadership do not have a place within the SLFP," Minister Amaraweera said.
He added that the SLFP or the UPFA had sufficient young and fresh candidates with good track records to contest and win the local government polls. With them, the SLFP will be in a position to discard many a rotten egg in the party, he said. (Sandun Jayasekera)