---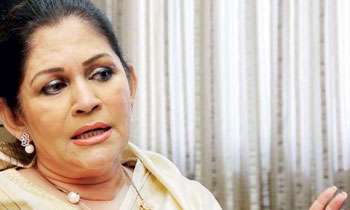 There is no move to spend Rs.5.7 million to renovate the toilets at the Mayor's official residence but some Rs.5.2 million is to be spent on preserving the entire bungalow as a place of archeologically value, Colombo Mayor Rosy Senanayake said today.
She said this when referring to a report which said Rs.5.7 million is to be spent for renovating the toilets in the Mayor's official residence.
"I have sought the advice of an expert from the Department of Archaeology on renovating the official bungalow and preserving it as a place of archaeological value. It was this expert who adviced me on purchasing fittings and other material for the renovation. The method followed earlier was a fully fledged contract which included provding material and labour but this time the Colombo Municipal Council (CMC) will purchase the material and deploy CMC workers to carry out the work," the Mayor told a media briefing today.
She said this was a part of a programme to preserve buildings of archaeological value such as the Colombo Town Hall and the Old Town Hall.
"I have my own private residence with seven bedrooms and eight toilets thanks to my husband. What we want to do is to make sure that the place where the City's 1st citizen meets foreign dignitaries is suitable for such meetings. This property belonged to the people not to me," the Mayor said.
The media release issued by her earlier said the CMC had been under the administration of the Municipal Commissioner for more than one and half years similar to other local government institutions and therefore Mayor's bungalow had also remained closed and unused. (Yohan Perera)
Video by Buddhi