---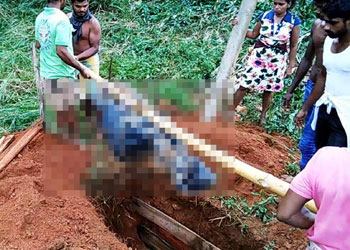 Five villagers, who perished in a landslide at Kolambewa in Ayagama, were buried without coffins or funeral rites.
In the landslide, about ten acres of land in Muninkanda situated between Kalutara and Ratnapura buried eight members of two families.
Five bodies including that of 62-year-old M.V. Gunawathie were recovered by army personnel during search operations carried out up to Monday.
"Seven members of our family and another were buried under the Muninkanda landslide. After several days, four bodies were found. We buried the bodies in Ayagama without coffins. The body of aunty Gunawathie was found later in an advanced state of decomposition. There is nothing we can do. We are helpless and can't afford to purchase coffins. We have informed the officials but even they appear helpless," 26-year-old K. Dimuthu said.
K. Ravindra, a brother of two of the deceased women said no one except for police and army personnel came to their aid.
The bodies had been buried wrapped in polythene.(Txt and pics by Bandu Thambavita)