---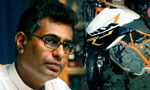 Police today told Court that according to the report sent by the Moratuwa University, the CCTV footage on the Rajagiriya accident in which Megapolis and Western Development Minister Patali Champika Ranawaka's vehicle met with an accident, shows no scientific evidence to prove that the minister was anywhere in the vicinity.
Police denied allegations made against them by the aggrieved party's counsel and told the court that it had carried out a fair and broad investigation into the matter.
They said that in the absence of sufficient evidence there was no way that Minister Ranawaka could be named as a suspect.
Police said that to conclude the investigation they have to record a statement from the victim, Sandeep Sampath, who is currently being treated at the Ragama Hospital but he is not in a stable health condition to record a statement.
Colombo Additional Magistrate Chandana Kalansooriya directed the police to obtain the relevant medical reports on the victim from the Hospital and postponed the inquiry for June 29. (Shehan Chamika Silva)
Video by Courts Prasanna