---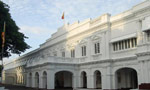 The Ministry of Foreign Affairs will be relocated in a modern building in a plot of land about two acres in extent at Jawatta Road, Colombo.
The memo submitted to relocate the Foreign Affairs Ministry from the current location by Foreign Affairs Minister Mangala Samaraweera was approved by the cabinet on Tuesday, Cabinet spokesman, Mass Media and Parliamentary Affairs Minister Gayantha Karunatilaka said.
Minister Samaraweera told the cabinet in his memo that the Republic Building, which the Ministry of Foreign Affairs is currently situated was built during the British colonial era and has been identified as heritage that should be conserved and hence the relocation.
Due to the insufficient office space, extensive repairs and maintenance of the Republic Building, several efforts were taken since 2011 to relocate the Ministry in a suitable place. However, all such efforts taken so far have not been successful due to numerous reasons and it has now been essential to find a suitable place to relocate the Ministry. It may also be necessitated to relocate the Ministry in accordance with the future plans of relocating all the government buildings outside the Colombo city limit.
The Cabinet in 2011 allocated 3.5 acres of land within the Waters Edge premises at Battaramulla owned by the UDA for the relocation of the MOFA. Accordingly, a land in extent of 2 acres has been identified by the UDA within the Waters Edge premises due to the limited extent of land at the above location.
As the said 2 acres of land was not suitable for the relocation of the MOFA, another UDA land closer to the Jana-kala Kendraya premises was identified. Subsequently, the UDA has decided to allocate the same land in extent of 9 acres 2 rood 19 perch to the MOFA, he said. (Sandun A Jayasekera)