---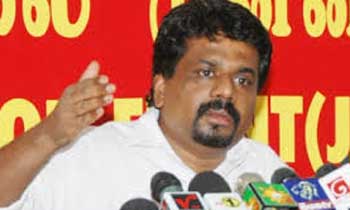 The Janatha Vimukthi Peramuna (JVP) today charged that the government had presented a new Inland Revenue Act in parliament for approval to please the International Monetary Fund (IMF) as a condition laid down by it to grant the third installment of the IMF loan.
JVP leader Anura Kumara Dissanayake said no responsible authorities such as Inland Revenue Department officials, Trade Unions, tax payers and auditing firms had been consulted before formulating the Act.
He told a news conference that the government had proposed so many tax revisions in the Act going beyond the tax revisions made in the budget.
He said tax imposed on agriculture, EPF, lottery victories, grants by the President and scholarship for university students had been increased in the new Act while tax concessions given for stage drama, musical field, new inventions and life insurance policies of senior citizens had been removed.
"The 50% tax concession given to stage dramatists and authors for their first publication of a book had been removed. Inventors engaged in new inventions and life insurance income at maturity for senior citizens had been subjected to income tax. Tax on agricultural equipment had been increased from 10 % to 14 % while tax on medium scale companies had been increased from 10 % to 14 %. Income tax on lottery victories had been increased from 10% to 14%," he said.
Mr. Dissanayake said services provided by locals for foreign institutions while in Sri Lanka or abroad had been subjected to tax while foreigners providing such services to Sri Lankan institutions had been exempted from tax. (Ajith Siriwardana)
Video by Dhanushka