---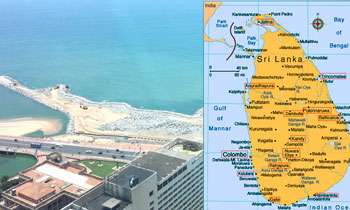 The latest and updated map of Colombo, which consists an additional two square kilometre land of the Colombo Port City, would be unveiled tomorrow, the Survey Department said.
Surveyor General P.M.P. Udayakantha said a digital version of the map would be released today, while the printed version would be available within two weeks.
He said the Colombo Port City would add an additional land of 2.67 km2 when the project was completed.
"The land area of the Port City, which we surveyed, is only about 2 square kilometres at present. We could update the digital version but it is difficult to release manual version of the Sri Lanka map when there is an update," he said.
He said there were 92 precincts of Sri Lankan map and the Department had completed 70 precincts so far.
Survey and mapping of remaining precincts would be completed within this year, he said.
"The surveying of the entire map of Sri Lanka is being done after 18 years and the last survey was conducted in 2000.
"The new map will include many recent development features such as expressways, flyovers, reservoirs and others," he said.(Darshana Sanjeewa)