---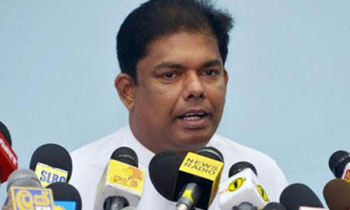 The new Constitution would finally need to be approved by the Venerable Mahanayake Theras and the people, the United National Party (UNP) said today.
Co Cabinet Spokesman Gayantha Karunathilaka at a media briefing yesterday morning was speaking on the possible courses of action, which the Government intended to follow with regard to the new Constitution.
"Certain Opposition forces are trying to get political mileage by trying to show a non-existing monster. However, the new Constitution would be one that would be approved by the Mahanayake Theras and the common masses at the end of the day," Karunathilaka said.
He assured that no one would take away the status given to Buddhism by the Constitution.
He said both the President and the Prime Minister would meet Mahanayake Theras shortly and explain the real situation with regard to the Constitution.
MP Mujibur Rahaman, who also participated in the media briefing said even former President Mahinda Rajapaksa pledged to change the Constitution in his Presidential election manifesto in 2015.
He said former President had pledged to change the Constitution through a citizen's advisory committee.
Besides the MP said setting up of a Constitutional Assembly has been done with the approval of all 225 members of Parliament.
"The Joint Opposition and even some in our own camp shout about without knowing facts," he said. (Yohan Perera)