---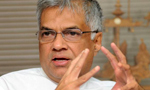 Prime Minister Ranil Wickremesinghe said yesterday that the government would procure the equipment -- ships and aircraft -- to enable the Sri Lanka Navy to protect transnational trade in international waters.
Speaking at a commissioning parade at the Marine Naval Academy in Trincomalee, he said the Navy would protect international shipping lanes in the Indian and Pacific Ocean regions in the future.
"The Sri Lanka Navy will have to play a role in protecting the sea routes across the Indian Ocean, the Pacific Ocean, the sea off Banda Aceh and the Strait of Malacca. We will have to prepare for that," he said.
"It will be necessary to safeguard the Indian Ocean in particular, as international trade will be affected if a ship runs into trouble there," he said.
He said Sri Lanka would purchase all the necessary equipment, including ships and aircraft, needed for the navy to play the international role.
The premier said country's GDP should be increased fourfold in order to generate funds for this purpose.
"We will go in for economic agreements with China, Europe, the Middle East and the East African region to get international markets for Sri Lankan goods," he said, while stressing that the GDP would be increased by developing international trade.
"You officers who pass out today are lucky, as you are not going to safeguard the Sri Lankan seas alone but the seas in the whole region," he said. (Yohan Perera)