---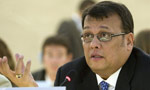 The government is now in the process of drafting a national human rights action plan for the period 2017-2021, Minister of Skills Development and Vocational Training Mahinda Samarasinghe said.
Addressing the XVII Summit of the Heads of State and Government of the Non- Aligned Movement held at Margarita Island, Venezuela, Minister Samarasinghe said the government had already undertaken constitutional reforms to strengthen democracy. "We have now embarked on a comprehensive constitutional reform process that will lay the foundations for a new society based on these norms," he said.
He further said that the National Unity Alliance Government of Sri Lanka under President Maithripala Sirisena and Prime Minister Ranil Wickremesinghe, came into office on a mandate given by the people of the country, at two successive elections in January and August last year, committed to good governance, the rule of law and protection of human rights.
"The government is firmly convinced that durable peace, meaningful reconciliation and non-recurrence can only be guaranteed if the rights of all its citizens are protected and upheld and respect for our pluralistic society," he added.
Commenting on the economic development, the minister said that development agenda is one of the most important issues that face the government. "As we move toward the 2030 Agenda, we must give priority to the alleviation of poverty, the importance of food security, health and nutrition, education, water and sanitation, energy and infrastructure and greater access for women," he said.
Minister Samarasinghe said actions should be to achieve better standards of living, healthcare, education, and employment opportunities for our people.
In Sri Lanka, we have been fortunate to meet a number of our development goal targets, despite the present world economic climate, he said.(Darshana Sanjeewa)