---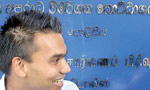 Parliamentarian Namal Rajapaksa had been summoned to record a statement by the Police Financial Crimes Investigation Division (FCID) today, informed sources said.
MP Rajapaksa who had been summoned on several previous occasions with regard to a number of ongoing probes had been asked to report to the FCID office in Fort at 9.00 a.m. today.
According to police sources, he is expected to be quizzed regarding a property which is said to be owned by his mother and former first lady Shiranthi Rajapaksa in Mihindu Mawatha, Dehiwala.
The FCID previously recorded the statement of Yoshitha Rajapaksa, the second son of Shiranthi Rajapaksa, in connection with the same probe. (Kurulu Koojana Kariyakarawana)
Video by Buddhi